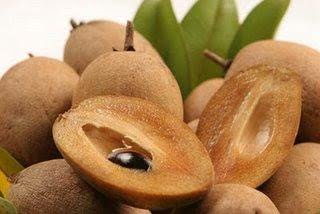 It is actually about buah ciku..Seriously it is really hard to find them nowadays..Samada pokoknya mahupun buahnya..Kat pasar malam tak ada, on the way balik kampung pun tak ada juga..So this kind of situation makes me wonder are they already extinct or me myself yang tak pandai cari..
As I remember the last time I ate them is when I'm in matriculation level, somewhere in 2006 or 2007..But yang pastinya that time is on bulan ramadhan..I was on the way going back to home from Penang-Ipoh for hari raya celebration..
Perjalanan yang sepatutnya mengambil masa 2 1/2 jam menjadi lebih panjang disebabkan oleh traffic jam..Standard la musim perayaan, semedang ja jalan jam..I loves to sleep when i'm travelling by bus..Tapi tidur-tidur ayam ja la..Asal celik ja mata tak juga sampai..Naik kebas buntut duduk lama sangat dalam bas..
Waktu berbuka puasa hampir tiba..Ramai dikalangan kami yang tak spare makanan untuk berbuka sebab masing-masing expect sempat berbuka di rumah..So pak cik bas kami ni berbaik hati untuk singgah sebentar di hentian rehat yang tak berapa nak famous ni..Dia bagi kami masa 15 minit untuk menyahut panggilan jamban dan mencari apa patut untuk dijadikan juadah berbuka..
Within that very limited time frame, I end up buying a big mineral water, twisties, gardenia's chocolate bun and buah ciku..Only that's all I managed to grab..Takut tertinggal bas punya pasal..15 minit pak cik bas kata, memang on time la Iris naik semula ke dalam bas..Padahal bas gerak lambat juga disebabkan masih ramai lagi budak-budak degil yang berkeliaran di sekitar hentian rehat..Hampeh..
So itulah kali terakhir Iris makan buah ciku..Tapi hari ini Iris bernasib baik sebab adik yang mak Iris ajar mengaji bawa buah ciku untuk kami sekeluarga..So lepas ni kalau anak cacing dalam perut ni mengidam nak buah ciku memang Iris akan target budak tu..Suruh dia pergi cari buah ciku untuk Iris..Hehe
p/s: Pernah makan tak buah keriang dan buah nam nam?